BSV has been manufacturing lifting grabs in Denmark for over 50 years; offering a complete line lifting clamps. The clamps listed in this catalog represent a small part of the line. Please visit our web site to see more lifting options. Weather it is a standard clamp, or custom grab, we can provide safe, high quality, lifting equipment to meet all of your requirements.
Barrier Grab Type 1507
Scissor grab type 1507 is the easy way to lift and move road barriers using a reliable mechanical ratchet system. The grab is a top quality product, Scissor grab type 1507 is the easy way to lift and designed, engineered and manufactured in Denmark.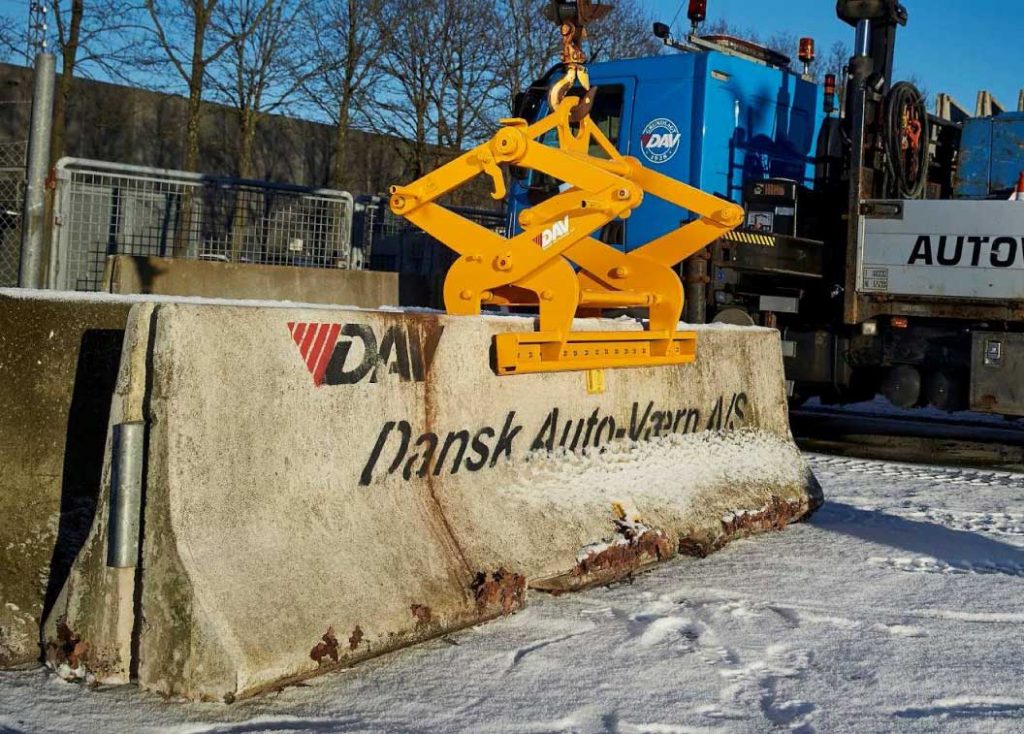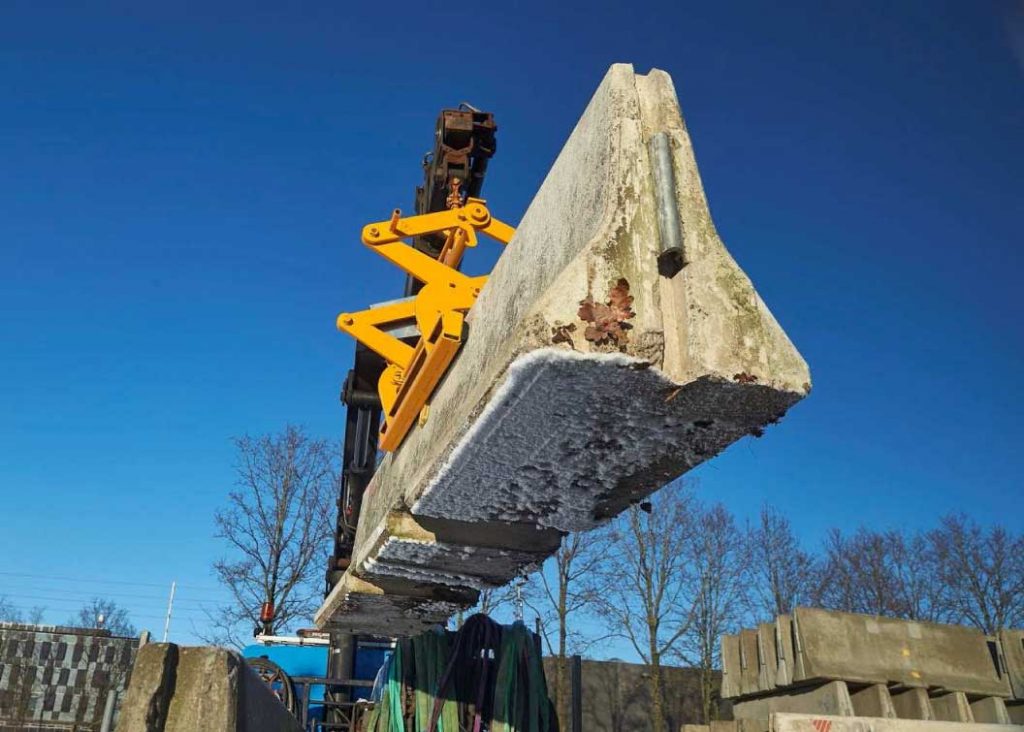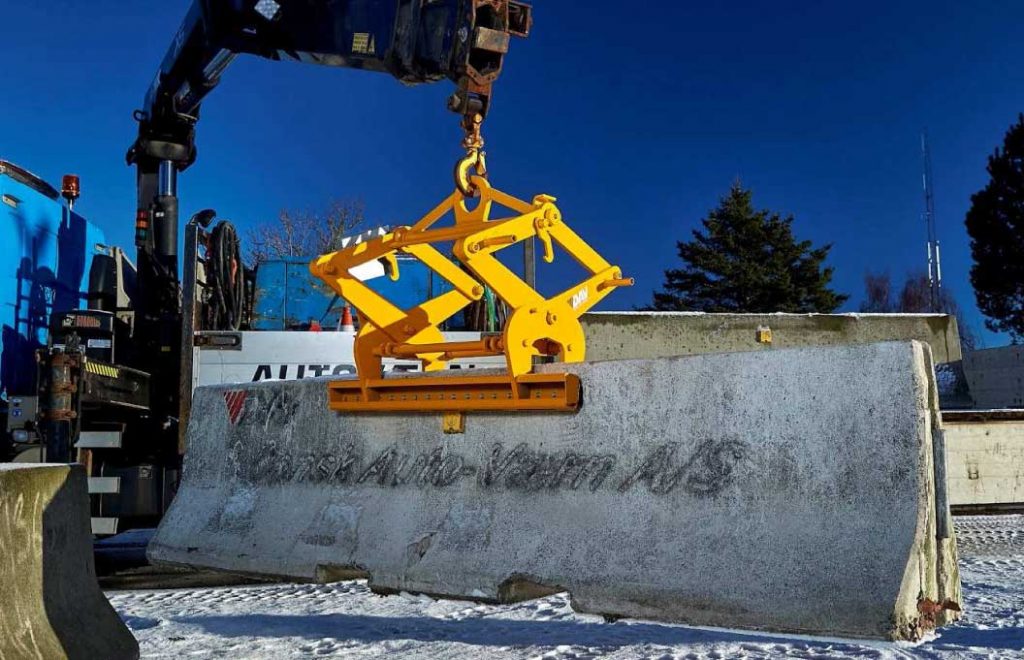 Black or Grey non-marking pads available.
Grab type 1507
Jaw length (in / mm)
Span (in / mm)
Unit Weight (lbs / kg)
WLL (lbs / kg)
150700
47 1/4" / 1200 mm
7" / 180 mm
383 lbs. / 175 kg
4400 lbs. / 2000 kg
150720
47 1/4" / 1200 mm
7" / 180 mm
383 lbs. / 175 kg
7700 lbs. / 3500 kg
150730
47 1/4" / 1200 mm
7" / 180 mm
475 lbs. / 215 kg
9900 lbs. / 4500 kg
Scroll horizontally to see more columns.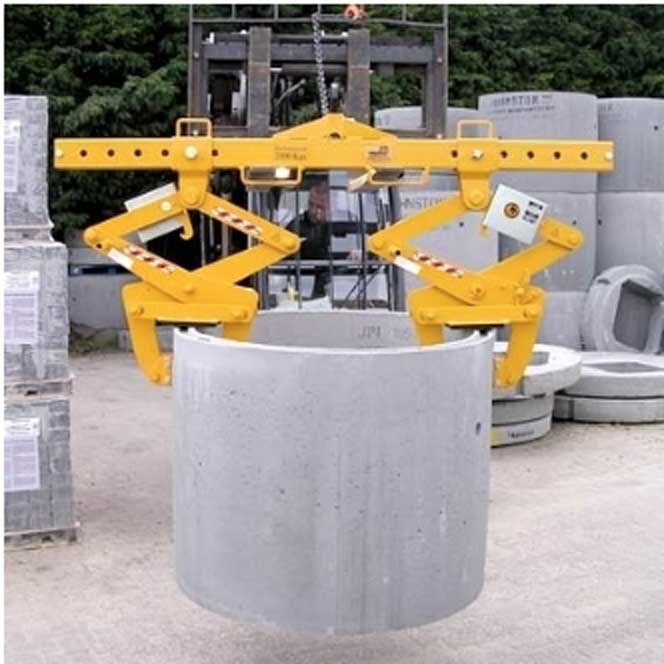 Barrel Grab Model 685 HD
The BSV Barrel Grab is a mechanical grab designed to pick up barrels that range in diameter from 38"- 84". The model 685 HD has a safe working load of 6050 lbs. Larger capacity barrel grabs are available as a special order. This unit has a built in fork pocket.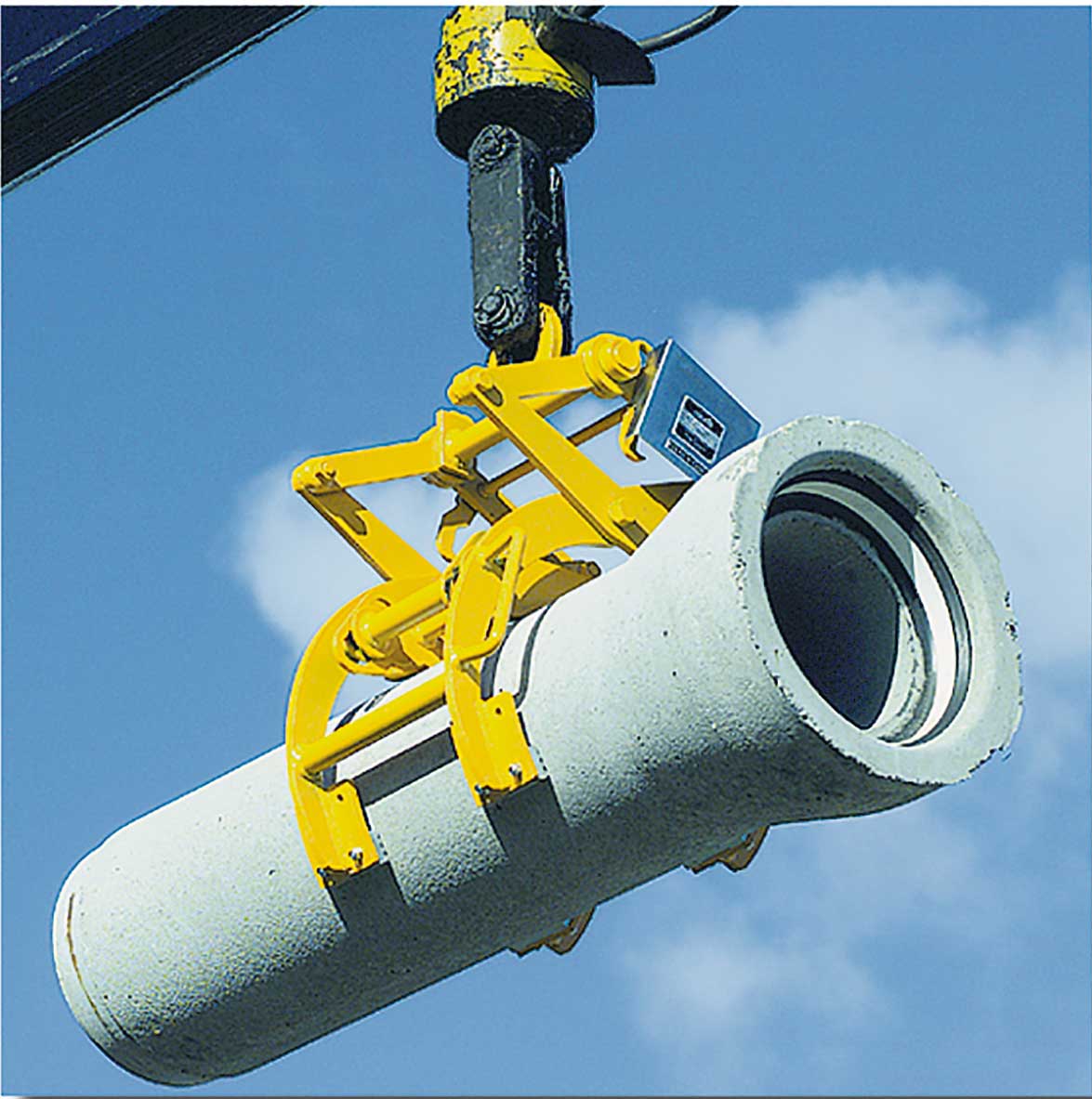 Pipe Grab Model RG
The BSV RB series of mechanical grabs are designed to safely lift smaller diameter pipe. Standard grabs are built to suit pipe from 6" to 24". Custom grabs are available for 30"- 62" pipe. Models are available with asymmetrical arms to allow closer stacking. Can be used with optional fork yoke.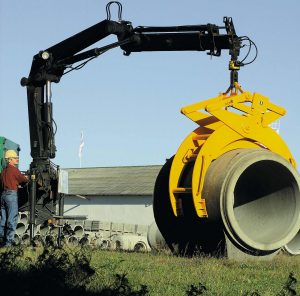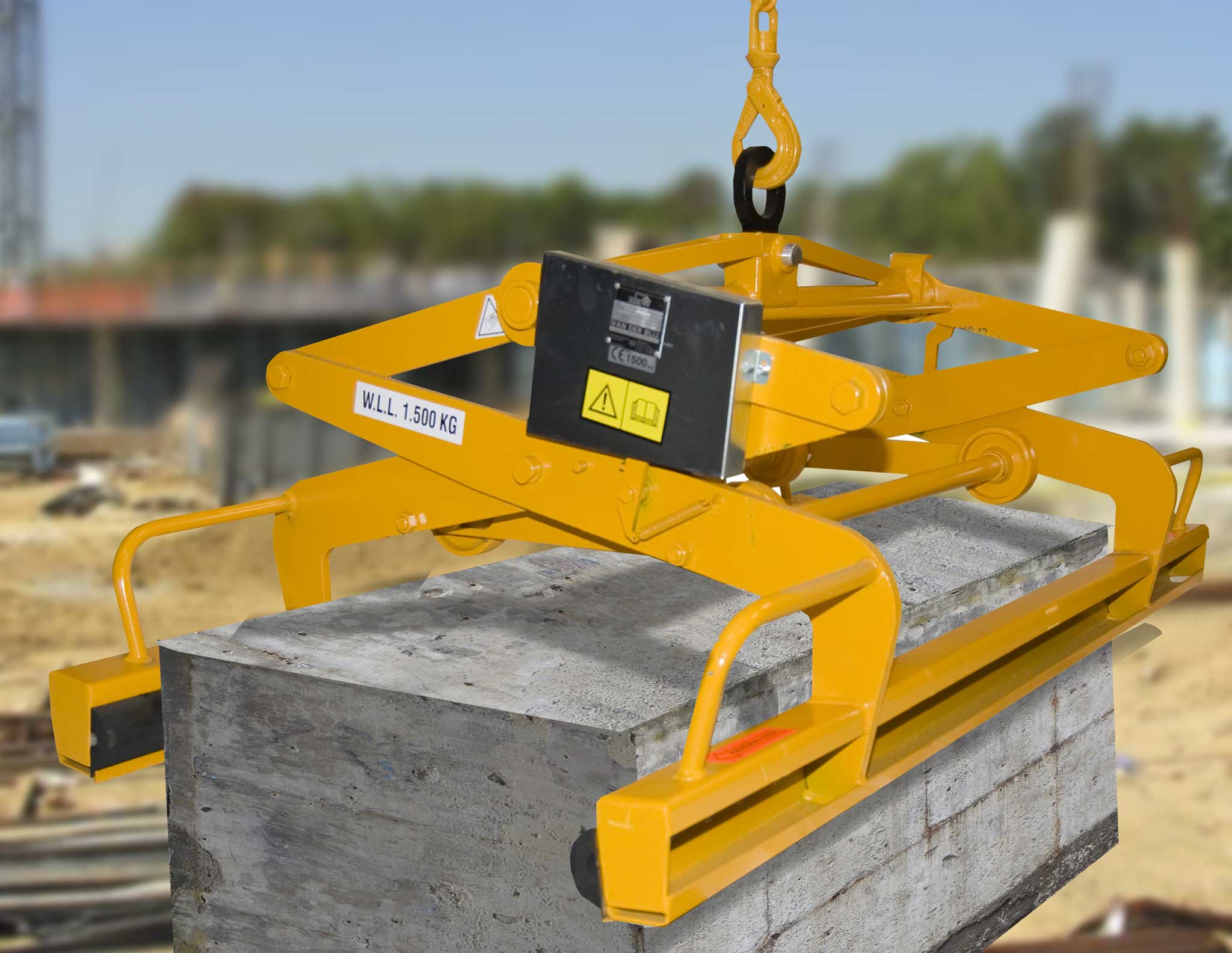 Large Block Grab Model 203/406
The BSV 203/406 Series is designed to lift large scale wall block.
Model 203 has a lifting range from 15 3/8" – 25 1/2", 1650 lbs. capacity.
Model 406 (pictured) has a lifting range of 15 3/8" – 25 1/2", 3300 lbs. capacity.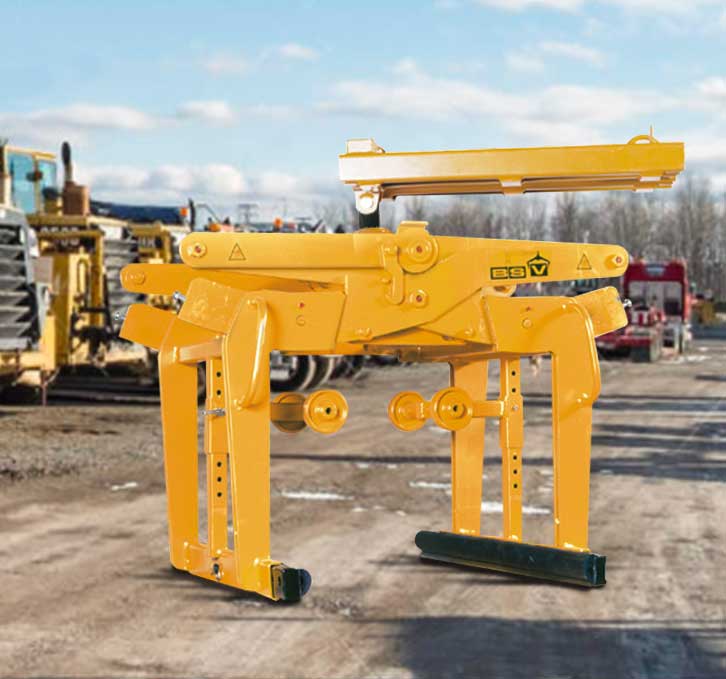 BSV Scissor CLAMP model 760/50Z
The width of this clamp can be adjusted from 15.75" to 42". A maximum safe working load of 3,300 lbs. Extremely versatile, ideal for multi-purpose use.
BSV 32/38
The 32/38 will safely lift loads from 32" to 38" and up to 4070 lbs. This clamp will perform.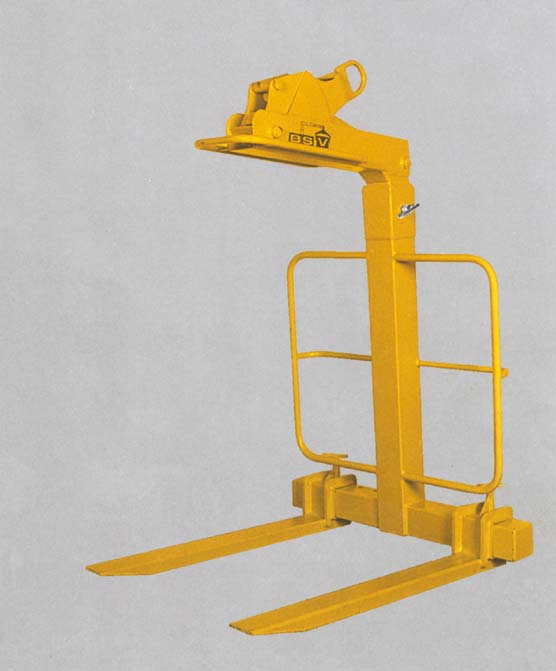 BSV Pallet Fork model PG 100/2-SSB-SBL self-balancing
This model has a spring-loaded head so that the fork always remains horizontal, loaded or unloaded.
Lifting capacity of 4,400 lbs.
Fork adjustment 15.75" – 37.4" Height adjusts to 102"
Extensive range of forks available
BSV SCISSOR CLAMP MODEL 10-38
A lightweight clamp suitable for lifting curbs and other narrow stones. Lifts from 4" to 15" at a maximum safe working load of 1540 lbs.